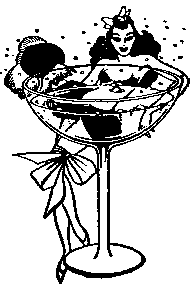 ---
---
I was very disappointed after accessing your WEB Site. Your announcers mentioned that your WEB site had information on your programming so that I could check details of some of the material I had heard on the air. When I accessed your site, I found it very sparce. It mostly contained material which seemed to be oriented to selling services by WGNS except for the "other links" which had some stupid information who frequently used curse words and probably thought he was being cute.
Although we in Americe are free to think and say anything, I feel most people and entities abuse this privledge. People and especially the "Media" should be more concerned about fulfilling their "RESPONSIBILITIES" instead of twisting the rights guarrantied by the Constitution. I never hear anyone yelling "Give me my responsibilities." If you have anything good to say about WGNS or its WEB site implementation, please feel free to contact me at the E-Mail address xxxx@xxxxxx.xxx. I do not really expect to hear from you. Surprise me.
---
heavily moist 12" remix e.p. extended tongue and miramax is done and waiting for 1,500 pairs of wet ears to hear it.
second nwk l.p. nasty international is out!!
---
Capricorn, Dec.21-Jan.19
Even if you don't think you need a cure, here's my prescription: place yourself outdoors at the site of a luxurious amount of precipitation. If your area's expreriencing a dry spell, drive to a place that's not. Travel hundreds of miles if necessary. Once you're there, stand with your legs shoulder-length apart. Thrust your arms akimbo as if in invitation to the heavens. Then turn your face up, open your mouth as wide as it'll go, and drink that wet stuff for as long as it takes - until your soul feels moist again.
---
Hungry and Wet male, female, age 15 - 45. interested in tourism, martial arts, world peace and universal wetness. seeking defenseless doe-eyed chump to take the fall. if you think you are the one, please listen to nwk hit song control experiments. respond.
---
Subj:    New Wet Kojak
Date:    96-01-19 10:51:07 EST
From:    NWK@WGNS.com
To:      President@whitehouse.gov
 
Dear Bill "Comander in Chief" Clinton,
     You are hereby notified that the "weather will not change" (Miller)
because New Wet Kojak, an intracosmic lifestyle conglomeration, has in fact
reached groung zero.  Furious east coast brush fires have sprung up whose
thirst can only be quenched by the waterfall that is New Wet Kojak.  Our
presence is imminent. Rejoice in the pink champagne hot tub that is NWK. 
                                 All my love,
                                  N. Pell

---
New Wet City
This wetsite was started while on tour right from the Knitting Factory's computer the night we played with Stratotanker (January 19, 1996).
What is so special about this fuckin' new wet city? I see alot of attitude, but I don't see much WET goin on.
We recorded an album for Touch and Go records which was released in October, 1995.
Check out Southern Records website to see a web page by another band called New Wet Kojak. We don't know who they are or what they are up to. But they are definitely not playing the new wet kojak. Soon enough there will be a showdown. Time to find out who wears the pants in this little family.
You can email us at .
---

File last modified:
This page has been accessed times.